Article
7 Ways Non-Acute Healthcare Facilities Can Improve Their Waiting Room Experience
May 19, 2022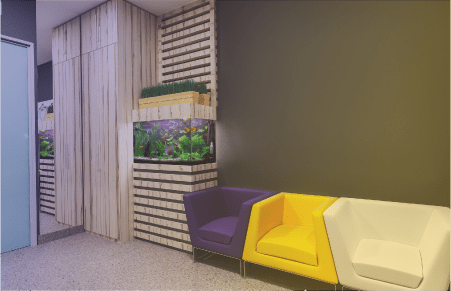 Because of the COVID-19 pandemic, most waiting rooms no longer have magazines or books to keep patients occupied as they wait for their appointments. But non-acute healthcare facilities still want to keep their patients and visitors entertained or at least engaged in some type of activity, so the wait doesn't seem as long.
If you think wait time doesn't matter or that patients are conditioned to accept a long wait, think again. According to reports, 30% of patients facing a long wait time will leave before seeing the doctor, while 20% will change providers. This shows that the waiting room experience affects the business.
7 WAITING ROOM ENHANCEMENTS FOR BETTER PATIENT EXPERIENCES
Improving the waiting room doesn't have to require more space than facilities already have. Here are seven ways to make it more engaging and grab patients' attention. Unlike books and magazines, the surfaces of these items can be easily cleaned.

1. Set up a fish tank. Watching fish helps people relax and can improve a person's health, according to researchers. It's part of a trend called animal-assisted therapy. Patients of every age enjoy looking at fish. "If you have a waiting room where customers are… stressing or worrying, adding a fish tank could really help to improve the ambience and help people to relax while waiting to be seen, creating a much calmer atmosphere," states fishtanksandmore.com.
A 55-gallon aquarium kit that includes everything except the fish costs about $365. The fish require regular feeding and the tanks have to be cleaned, so it does need some maintenance and upkeep.
2. Greet patients with a robot. Granted, this is cutting-edge and probably won't be in most waiting rooms anytime soon. However, having an interactive robot in the facility is certainly a differentiating option. Some restaurants now have robotic hosts and servers, and this trend could be coming to non-acute clinics.
Robots can also perform some office tasks. According to GWS Robotics, "A robot can process arrivals and manage a queuing system, and it can keep customers entertained and interested while they are waiting for a consultation to begin." Some healthcare facilities now use robots to help kids. For example, one dental practice has a multilingual, artificial intelligence-enabled 4-foot-tall robot that greets patients in the waiting room.
3. Hang a flat screen television. A wall-hung TV that offers engaging, entertaining or informative content can make the wait time be perceived as shorter. Avoid politically-charged programs or news channels. Instead turn to content that's geared to the patient population, such as a popular cartoon or kid's movie for pediatric clinics.

Or use the TV to build patient trust and loyalty. Facilities can play a video loop featuring their services to educate patients about the full range of clinical offerings and potentially drive new business, or showcase staff with video profiles to connect with patients. Another option is to offer videos promoting wellness best practices to increase patient knowledge and help patients build healthy habits.
4. Provide complimentary Wi-Fi, charging stations and video games. Patients of almost any age can keep themselves entertained if they can stay connected to their mobile devices. Providing a connection for patients to easily access the internet allows them to check their emails, read the news, play games and maybe even promote the clinic by socializing their location.
Offering free Wi-Fi with the access password posted in a highly visual place and providing charging stations for mobile devices are good ideas, but clinics can do more. They can supply charging cords for people who don't have theirs handy and are running low on power. The cords stay in the waiting room, and they cost $10 or less.
Clinics can also offer a guest workstation with computers or iPads for patients who want to sign on as they wait. New iPads start at about $320 and can be attached to the workstation, so facilities don't have to worry about losing them. Facilities should keep their private network secure and protected by having a separate guest network for patients.
One way to keep kids entertained is to provide games. Some waiting rooms have dedicated areas featuring interactive games, similar to a video arcade. Zones can include virtual or augmented reality videos that require wearing headsets. A basic all-in-one virtual reality headset, like the Oculus Quest 2 with 128 GB, starts at $300. Setting up tablet or iPad stands and kiosks offers age-appropriate apps, games or reading materials while providing a place for kids to play.

5. Ensure comfortable, ergonomic seating. Having comfortable seating is a must. Ergonomic chairs and other furniture help patients relax, which can be a welcome distraction while waiting.
Furniture should fit the look and style of the office, but it needs to do more than that. Seating should be available to meet the needs of patients with different abilities and limitations. Clinics can purchase furniture with an antimicrobial finish that prevents the growth of microbes, viruses and bacteria. This helps stop the spread of infections or diseases, and the finishes can be easier to clean than traditional surfaces.
6. Offer fun food and beverages. People like to snack. The International Food Information Council found that almost everyone—97% of people—snacks at some point during the week, and 57% of those people have at least one snack a day. Offering complimentary snacks and drinks in a clinic can go a long way toward improving patient moods and experiences.
Basic offerings include water, coffee and healthy snacks. Clinics can improve patient satisfaction by enhancing their selection. Upgrading to granola bars or fruit is appealing to some patients, but facilities can bring this up another notch by having cappuccino and smoothie machines. Providing cookies can be another nice touch.

7. Give the room a new feel with new colors. Just like in the home, a fresh coat of paint can give a room a new look. Facilities can paint one wall a different but complementary color from the adjacent walls to create interest and provide a focal point in the room.

Soothing and calming colors are best for a waiting room. These include pastels, neutral colors, and blues, greens and tans. The right color scheme can subtly bring a sense of calmness to patients.
SAVE MONEY BUYING WAITING ROOM ITEMS FROM A GPO
A clinic can show they're in touch with patients and ensure a welcoming experience by having a modern waiting room. Many waiting room upgrades
"Having a modern waiting room shows that a clinic is in touch with patients and wants to ensure a welcoming experience."