Article
The FDA is Cracking Down on CBD
March 7, 2020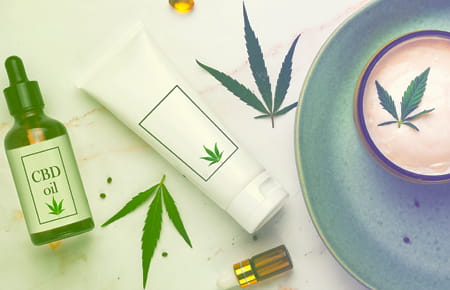 CBD, short for a compound in cannabis plants called cannabidiol, is a hit with consumers seeking holistic therapies to relieve pain, ease anxiety, sleep better and experience other health benefits. But what do we really know about CBD products' safety and quality?

Not enough, says the Food and Drug Administration (FDA). The agency is stepping up enforcement of CBD companies over unproven medical claims, product labeling violations and products marketed as food or dietary supplements. Here's what we know about the regulatory shakeup and its implications for partnering with a CBD company.
WHY CBD REGULATORS ARE TROUBLED
The science of CBD is lagging in the market. Experts say rigorous, peer-reviewed clinical trials on the short- and long-term effects of CBD across a wide range of conditions are needed. To date, only one CBD drug—Epidiolex for childhood epilepsy—has garnered FDA approval.
As for other CBDs, it's buyer beware. An analysis in JAMA involving 84 CBD products from 31 companies revealed a wide range of doses. About 70% of products were mislabeled. They contained more or less CBD than stated. One in five contained the cannabis compound THC; enough to produce a "high," but not disclosed on labels.
"While we recognize the potential benefits of CBD, questions remain regarding its safety," the FDA stated. How much CBD can someone safely consume in a day? Are kids, older adults, or pregnant or lactating women at risk? What's the effect of cumulative or long-term use?
Based on existing studies, the FDA warns of potential CBD harms and side effects, including:
Risk of liver injury.
Potential interactions with other drugs.
Possible impact on male infertility.
Risk of sedation and drowsiness when taken with alcohol or other depressants.
Diarrhea and/or decreased appetite.
HOW THE FDA IS PROTECTING CONSUMERS
Regulators are tapping the brakes on the entire CBD marketplace—from premier players to mom-and-pop shops.
In May 2019, the FDA held its first public hearing on CBD. A wide range of stakeholders testified, helping inform industry standards and government enforcement going forward. New regulatory guidance is expected in 2020.
Currently, CBD companies that make misleading, unproven or false claims about their products' therapeutic effects or illegally market products as food or drugs are subject to legal action. The FDA issued warning letters to three companies in March 2019 for "unfounded, egregious claims" related to treating medical conditions like cancer and Alzheimer's disease. Fifteen others received similar warnings in November.
HOW THE PHYSICIAN-PATIENT CBD CONVERSATION IS CHANGING
The uncertain regulatory landscape leaves physicians in a quandary. What do they tell patients about which brand is best, what formulation to use and what dose to take?
"There's no doubt there are patients walking into doctors' offices every day saying, 'What do you know about CBD? I'd like to start taking it,' " says Todd Smith, co-founder and chief partnership officer of Fort Collins, Colorado-based Joy Organics, which offers an industry-leading line of CBD products. Overall, the medical community remains skeptical, Smith adds, noting that the dearth of peer-reviewed evidence remains a staunch obstacle.
In absence of quality studies, the Arthritis Foundation, for one, cautions patients with inflammatory arthritis that CBD is not a substitute for disease-modifying treatment.
Many consumers are taking matters into their own hands. In a Consumer Reports survey, 26% of adults had tried CBD; 51% of them assumed the ingredients had been tested and found safe.
"There's no doubt there are patients walking into doctors' offices every day saying, 'What do you know about CBD? I'd like to start taking it."
PARTNERING WITH A CBD MANUFACTURER OR DISTRIBUTOR
Medical licensure and insurance requirements keep many doctors from selling CBD out of their offices, Smith says. Instead, they might steer patients to a reputable provider's website.
Alternative medicine practitioners, integrative medicine physicians and chiropractors tend to be more willing to embrace CBD, he adds.
Wholesale partners who sell a branded product can save their patients 50% off retail, he says, while a private-label arrangement can potentially generate 100% markups.
Smith offers these three tips for identifying a reputable CBD partner:
Choose a "broad spectrum" brand that provides the full plant extract—minus the THC.
Select a brand that adheres to current Good Manufacturing Practice guidelines, the same standards drug manufacturers follow.
Check labels for QR codes linking to third-party test results. "The wild, wild west wheelers and dealers aren't putting out lab reports," Smith notes.
By partnering with a reputable manufacturer or supplier, physician offices can offer safe, appropriately labeled CBD products in their clinic, via the clinic's website or directly through the vendor. This allows physicians to recommend reliable products that have been vetted by the clinic or a trustworthy third party. The partnership also gives doctors the information needed to answer patients' questions about CBD products or refer them to someone who can.