Article
Staffing Solutions Without the HR Nightmare
November 22, 2021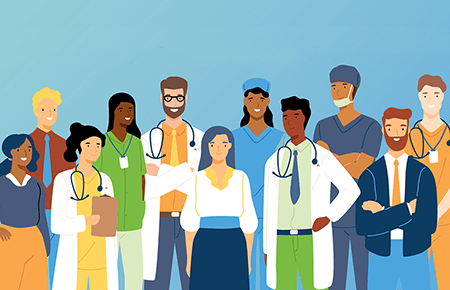 The ongoing COVID-19 pandemic has wreaked havoc on staffing for businesses and non-acute facilities. Many organizations are having problems hiring and retaining employees, which has forced these organizations to reduce hours or limit services.
The problem is poised to continue, but there are solutions. One is to take advantage of staffing contracts via a group purchasing organization (GPO).
DID YOU KNOW YOUR GPO CAN HELP YOU WITH STAFFING?
Employment fact: 90% of companies use a staffing agency to augment their staff.

Your business will probably need staffing help at some point during the year. A GPO can fill those positions, no matter how basic or specialized, temporary or long term, clinical or c-suite.
Leading GPOs offer effective, flexible staffing solutions and can simplify the process of enhancing your workforce.
You already have an established relationship with your GPO, so you can take advantage of staffing contracts for virtually any need, including healthcare.

ONE DAY HIRING PROCESS? IT'S POSSIBLE
Employment fact: Companies need an average of 42 days to fill an opening, and the time to fill a position in healthcare may be even longer, according to HireVue.
Many organizations lack the time to invest in the hiring process. Plus, they don't want to wait several weeks or longer to bring in the help. Your GPO can solve those pain points.
Working with industry-leading staffing suppliers allows a GPO to fill positions quickly, sometimes in just one day. This saves your company valuable time and increases productivity.
A call to your GPO eliminates the hassle of posting ads, sorting through resumes, making phone calls, conducting interviews, haggling over salaries and dealing with other hiring issues.

SAVE MONEY BY REDUCING OVERHEAD COSTS
Employment fact: Companies spend $4,000 on average to hire an employee, according to Sapling.

Hiring costs include marketing the position, placing ads on job boards, performing background checks and dedicating staff time to interview candidates. Procuring employees through a GPO eliminates those costs as well as the problem of making a poor hire.
Oftentimes, new employees are unable to seamlessly move into their position and deliver immediate value. GPO-provided staff have the expertise to go right to work.
In the summer of 2021, there were 10.1 million job openings in the United States, according to the U.S. Bureau of Labor Statistics. Outsourcing fills openings quickly without the hiring costs of traditional methods.

HIGHLY SKILLED STAFF REDUCES ONBOARDING AND TRAINING TIME
Employment fact: The cost of a bad hire is 30% of the person's first-year salary, according to the Department of Labor. For a healthcare worker earning $100,000, that's a $30,000 cost.
After hiring employees, organizations invest time, money and resources in training and on-boarding. And 88% of organizations do not onboard well. The onboarding investment is minimized when using the skilled staff via a GPO.
If your organization makes a poor hiring decision or the employee quits right away, the time and investment making the hire are out the window and the process starts over.
GPOs provide trained staff who can be productive on day one.

FILL ANY NEED, FROM CLINICAL TO THE BOARDROOM
Employment fact: 2.4 million new healthcare jobs will be added between 2019 and 2029, representing a 15% growth, according to the U.S. Bureau of Labor Statistics.
GPOs have access to a deep pool of talented professionals who can handle any job. This includes registered nurses and other healthcare professionals who deliver high-quality patient care.
Your company can take advantage of highly specialized services, such as language translation or auditing, that you may not have on staff.
Staffing covers everything from clinical services to administration, operations to executive level positions, and everything in between.

GAIN SCALABLE STAFFING SOLUTIONS TO MEET CHANGING NEEDS
Employment fact: 3 million people work for staffing companies each week, according to the American Staffing Association.
Staffing needs can be unpredictable and constantly changing. Someone may take a long vacation during a crucial time for the business or be on medical leave, causing a vital role to be unstaffed. Other companies may need seasonal or year-end help. U.S. employers spend $2.9 million every day looking for replacement workers, adding up to $1.1 billion per year, according to Zenefits.
By working with a GPO, your company can manage both the planned changes in staffing and the unexpected.
As needs change, a GPO can deploy the right employees with the right skill sets at the right time. You're not left short staffed or bearing the costs of overstaffing.