Article
How to Make Your Digital Front Door More Visible
March 8, 2021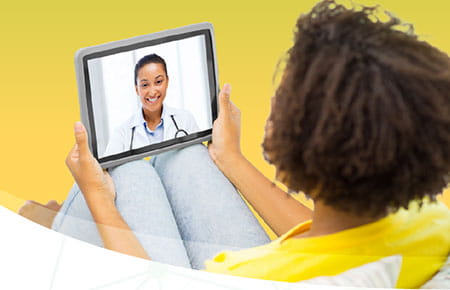 A digital front door engages non-acute healthcare patients at every touchpoint in their journey. It relies on technologies that most patients use on a daily basis, and it's always open.
The digital front door includes:
Video platforms. Enable virtual visits and telehealth at scale.
Mobile apps. Let patients talk directly with providers remotely.
Websites. Provide information, such as COVID-19 policies and precautions.
Online reviews. Show what others are saying about a clinic or provider.
Smart devices. Allow self-scheduling, mobile pre-registration and check-in and more.
Automated reminders. Send appointment reminders via text and email.

Benefits Include:
Patient engagement
Shape the patient experience before they enter the office.

Engage patients using their preferred platforms.

Connect with patients during the pandemic.
Patient convenience
Expand options for patient/provider interactions.
Reach patients who can't come into the office.
Enable patients to self-schedule appointments.
Return on investment
Acquire new patients and increase loyalty.
Build brand awareness.
Drive higher patient satisfaction.
Why a Digital Front Door Matters
Patient demand
44% want telemedicine options.
41% want digital forms and communications.
37% want touchless check-ins.
Consumers want better end-to-end digital patient experiences
49% wish the digital experience was smoother and more intuitive.
31% don't think providers have done enough to improve billing and payment processes.
10% won't pay their bill if they can't understand the administrative experience
What influences patients:
98% say online reviews are influential when choosing a provider.
68% say it's important for providers to customize their healthcare experience.
42% would consider switching doctors if they didn't provide a good digital experience.
28% have switched or stopped going to a provider because of a poor digital experience.

Source: "2020 Healthcare Consumer Experience Study," Cedar.