Article
COVID-19 Necessitates a New Look for Healthcare Facilities
November 6, 2020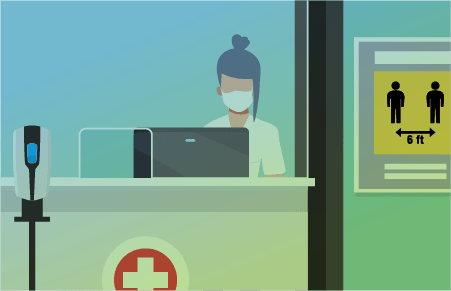 COVID-19 significantly changed many aspects of healthcare delivery. The coronavirus cast a spotlight on personal protective equipment (PPE), but non-acute care is also experiencing changes in medical supplies, telehealth, safety precautions and more. See how providers' offices and staff look different compared to before the pandemic. Here's a look at the changes.
COVID-19 screening kiosk.
Touchless thermometers.
Face shields for all employees.
Face masks for all patients.
Touchless hand sanitizer machines and stands.
Workspace dividers.
Anti-microbial coated furniture.
Signage reminders of social distancing.
Patients only in facilities.
Improved air filtration.
Plexiglass screens.
Reduced seating that's 6-feet apart in waiting room.
No reading materials or toys in waiting room.