Article
7 Employee Retention Strategies to Keep Staff From Leaving During 'The Great Resignation'
March 30, 2022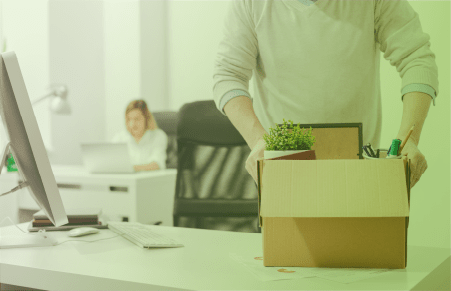 The pandemic has done more than see the spread of COVID-19 and cause large-scale lockdowns. It also changed the employee landscape. Many people saw their jobs eliminated or were furloughed, while others voluntarily left their positions. The latter trend—large numbers of people quitting their jobs at
historic rates
—has given rise to "The Great Resignation." For example, the
U.S. Department of Labor
recorded that 4.5 million employees quit their jobs in November 2021, over the course of just one month.
Several factors came together over the last year to drive The Great Resignation:
Plentiful job openings enabled people to find better positions.
Vaccine mandates prompted resignations from those who didn't want to get the shot.
Concerns arose over catching COVID-19 in the work environment.
Employees wanted more flexible work schedules that match their lifestyles.
Stress and burnout increased in jobs like healthcare.
Unprecedented resignations challenge organizations—some of which are already short staffed—to find, hire and train new employees in a job market with an estimated 10 million openings.
Affecting all industries and not limited to healthcare, finance, and supply chain. Businesses are seeing an increase in workers leaving and not being able to fill the roles that have been opened and remaining competitive.
7 STRATEGIES TO ENCOURAGE EMPLOYEE RETENTION
Organizations that want to keep their employees from leaving can take steps to keep them happy, engaged and satisfied with their jobs. Here are seven ways:
1. Offer workplace flexibility. Flexible work schedules, including the ability to work from home or have a hybrid work environment, are important to today's employees. Employees are now accustomed to working at home and many want to continue, even as companies are updating their return-to-work policies. "When it comes to attracting top talent, many employers turn their eyes toward flexibility in the workplace," noted Business News Daily. Some employees also want more paid time off and caregiver leave to provide care for loved ones.
Workplace flexibility includes giving employees the ability to choose their start and finish times, as well as having shorter weeks—such as working four 10-hour days or even four 8-hour days.
"A number of studies have shown that at some point, productivity decreases as the number of hours worked increases. Forty-hour workweeks may be wearing people out needlessly," according to Investopedia. "The idea behind a four-day workweek is to achieve the same results in fewer hours so people have more time to pursue other interests, spend time with loved ones, and manage their lives."
A shortened workweek could allow organizations to benefit from increased sales, decreased worker burnout and lower turnover, Investopedia notes.
Meanwhile, many employees have become accustomed to hybrid work models that allow staff to work in the office some days, and from home on others. One argument against allowing employees to work from home after the pandemic is that people are not as productive outside of the office. But that may be more myth than reality.
"A hybrid model can offer flexibility and empower employees to work to their strengths, which in turn boosts productivity," according to The Enterprisers Project. "By encouraging a culture that views remote work as a positive alternative to completing deep-focus tasks in the office, teams can find a good balance of creativity and collaboration."
2. Connect employees with the brand. An organization's brand should be compelling to employees in addition to customers to keep staff feeling connected. According to the World Economic Forum, "Brands that align themselves with connection, progress and employee development are most likely to retain staff."
Unfortunately, many employees do not feel fully engaged with their brand, which can lead to turnover. To solve this issue, organizations should integrate staff with the brand mission. "When leaders partner with marketing and human resources to explicitly align individual roles with a company's inspiring brand purpose, we have seen companies transform an exodus of employees into an influx of talent," stated the World Economic Forum.
3. Be empathetic to employees. An article by Forbes said that 96% of employees believed that showing empathy is key to retention. Employees want to know that the organizations they work for care about them.

Showing employee appreciation and empathy has value. "Companies that prioritize recognition have a better chance of retaining the talent they fought so hard to attract in the first place," noted another Forbes article. In addition, organizations that enable employees to recognize colleagues for their work have a 31% lower voluntary turnover rate than companies with poor recognition cultures, according to Deloitte.
4. Create better workforce engagement. Employees who are engaged tend to be more productive and less likely to leave than those who aren't. Organizations that engage employees also benefit from higher profits. Staff and teams that are engaged on the job are 21% more profitable, according to a report from Gallup.
Organizations can create better engagement by demonstrating that employee feedback is valued. This can include companies soliciting and acting on staff input. Offering wellness initiatives and mental health days can also improve engagement.

In addition, fostering employee engagement can be accomplished by conducting quarterly or annual employee surveys, then making appropriate changes to meet employee needs. Internal newsletters or company-wide emails that highlight successes can encourage engagement, especially if employees are recognized for their contributions. Company-sponsored events, like team-building lunches or even out-of-the-office activities such as a day in a museum or amusement park, can get employees more involved with their peers and managers.

Another strategy is to view staff as stakeholders. "Organizations have more success with engagement and improve business performance when they treat employees as stakeholders of their own future and the company's future," Gallop notes. "This means focusing on concrete performance management activities, such as clarifying work expectations, getting people what they need to do their work, providing development and promoting positive coworker relationships."

5. Provide opportunities to learn new skills. Employees want to grow their skillsets, and they seek job opportunities that allow them to upskill and develop new proficiencies. Providing training, either internally or through third-party services, meets the needs of employees who want to gain new skills to keep up with changing technologies or grow in their career.
This training also gives employers an advantage. Training current employees can cost less than finding and hiring workers who already have certain skills, and existing staff already knows the organization's culture and processes. Developing employee skills also enables managers to promote quality employees from within the organization.

6. Identify employees who are dissatisfied. Organizations must recognize signs that employees are about to leave and take action to improve morale and culture. These signs include high absenteeism, poor work performance and poor attitude.

One report noted that 49% of employees would leave their current jobs for a lower paying one at a company with a better culture. "Culture leads to less turnover, which equals savings," the report concluded.

Conducting employee surveys and meeting one-on-one with employees are two ways to gauge employee satisfaction. The next steps are to identify and then resolve issues, which can improve morale for all employees.

Unhappy employees may have potential, but may feel that their voices are not being heard or their contributions aren't valued. Some ways to change this are to:

Improve communications between employees and managers to demonstrate how employees' talents contribute to the company's overall success.

Allow employees a greater degree of autonomy. Employees typically don't want to be micromanaged, which can cause staff to become detached from their work.
Provide a path for employees to advance their careers. Offering a clear and upward path to management or other desired positions can motivate employees.
7. Foster diversity and inclusion. Employees want an environment that's diverse. Many organizations have diversity initiatives, which are a good start, but they're not enough. Diversity should be reflected across staff, including leadership positions, and all employees should feel valued and included.
A workforce survey found that 80% of workers want to work for an organization that values diversity, equity and inclusion. These values also benefit business. According to Inc, "Research shows that businesses with strong diversity, equity and inclusion programs benefit in multiple ways, including better performance and recruiting."
IMPROVING EMPLOYEE RETENTION STRATEGIES
Many non-acute healthcare organizations struggle to retain employees. This challenges companies to make their workplaces more attractive.
Offering a competitive salary and benefits package can also be an important differentiator. Benefits encompass more than healthcare coverage. They include career coaching, work/life balance, autonomy in employees' work, paid time off and sick leave benefits.
Non-acute organizations need to compete with salaries, benefits and offerings not only in their industry, but across other verticals that may attract their employees. Having strong and evolving employee retention strategies that meet employees' needs will be necessary to avoid turnover in this competitive employee marketplace.
"Having strong and evolving employee retention strategies that meet employees' needs will be necessary to avoid turnover in this competitive employee marketplace."