Article
6 Ways to Drive Value Across the Supply Chain
April 28, 2022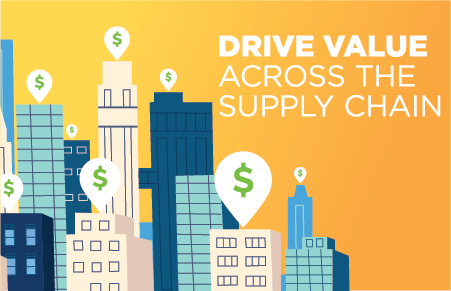 1. INCREASE SAVINGS WHILE IMPROVING EFFICIENCIES
With companies facing constant pressure to lower costs while improving outcomes, getting the best value on products and services is increasingly important. A group purchasing organization (GPO) like Provista can help by:
Delivering pricing, consulting and procurement solutions that increase savings and improve efficiencies.
Using modern technology to automate processes, such as ordering and inventory management.

2. LEVERAGE THE POWER OF GROUP PURCHASING
By integrating a facility's purchases with thousands of other members, Provista drives down costs. Its proven business model enables smarter purchasing and money savings for bottom-line results.
Provista connects members with the best value on everything from food and healthcare products to pharmaceuticals, capital equipment, purchased services and office supplies.
The Provista Pharmacy Program helps mitigate drug shortages and sudden price increases on the pharmaceuticals members need to serve their customers.


3. USE ADVANCED ANALYTICAL TOOLS
Reducing costs is only part of the value GPOs deliver. Provista also provides customizable tools and technologies to meet individual member needs and resolve common challenges.
Provista data and analytic solutions enable competitive benchmarking and insights into the supply chain to inform decision making.
Analyzing data identifies potential savings while showing a member's buying behaviors.

4. IMPLEMENT THE RIGHT CONTRACTS AT THE RIGHT PRICE
The GPO team handles the contract implementation work, ensuring the best tier pricing available. GPOs connect members from across industries with a robust portfolio of supplies and services.
Provista negotiates prices and implements contracts that fit each member's strategic plan.
Provista also unifies a healthcare provider's sites and facilities under the same contracts to save time and money by leveraging bulk purchasing power

5. MANAGE CONTRACTS WITH SPECIALIZED TOOLS
Having accurate, up-to-date information at members' fingertips is a competitive advantage. Provista gives members greater insight into the procurement process so when they place orders, they know exactly what they're going to get and when they're going to get it.
Use GPO management tools to standardize purchases, identify efficiencies and eliminate duplications.
Regular business reviews and reports help executives identify purchasing trends and new opportunities. Provista members can also access their purchase history 24/7 through a customer portal.

6. Take Advantage of Savings Programs
The more members buy with Provista, the more value and benefits they receive. Once they determine the products and services they use regularly, they can optimize those purchases with a GPO.
Benefit from standardized purchases and aggregation tier discounts.
Private label offerings and quarterly promotions provide additional value and savings.
"By integrating a facility's purchases with thousands of other members, Provista drives down costs. Its proven business model enables smarter purchasing and money savings for bottom-line results."