GROUP PURCHASING
PHARMACY

YOUR PRESCRIPTION FOR SAVINGS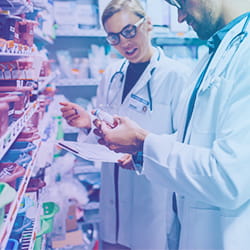 In a market plagued by short supply and rapidly escalating costs, the Provista Pharmacy Program can help you build a supply chain with uninterrupted access to in-demand pharmaceuticals whenever you need them.

You'll gain exclusive access to the nation's most protected inventory of shortage-prone drugs through Novaplus®, our private label. Unique in the industry, Novaplus features a mostly injectable portfolio, which has been increasing by about two dozen new drugs each year since 2012. Fill rates average 92%, which is significantly higher than the 79% average by other group purchasing organizations (GPOs).
PHARMACY PROGRAM OVERVIEW
JUST WHAT THE DOCTOR ORDERED

SUPPLY ASSURANCE
We do the work to ensure minimal disruption during supply shortages.

THE POWER OF MANY
We aggregate purchasing power across our membership to drive savings

FACILITATE CONNECTION
Connect with other pharmacy leaders and always stay in the know.

DATA DRIVEN DECISIONS
Gain access to real-time data and give you the information needed for better decision making.

SUBJECT MATTER EXPERTS
Get market insights from our experts to better inform your business.

IMPROVE SPEND
We work with you to customize an integration and business plan that best serves your patients.
NOvAPLUS MAKES THE PROVISTA PROGRAM UNIQUE
DISCOVER NOVAPLUS
SHORTAGES?WHAT SHORTAGES?
Novaplus offers more almost 200 drugs representing approximately 877 national drug codes (NDCs) including antibiotics, anesthesia and oncology pharmaceuticals.
Add approx. 24 new drugs/year since 2012
Primarily a generic injectable portfolio
Competitive upfront pricing
Offers unique access to products not on contract with other group purchasing organizations (GPOs) and exclusive discounts not available anywhere else
Dedicated inventory helps insulate members from industry shortages
Clear labeling guidelines to protect against look-alike pharmaceuticals
90%+ aggregate compliance rate
$18 million in quarterly standardization rebates
LABEL COMPARISON
Both labels are part of the Novaplus Program and count toward standardization rebates
Different NDCs, same manufacturer, different labels